Longspan Shelving London, Used Longspan Shelving London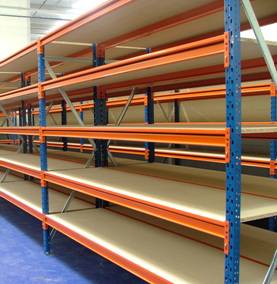 The Shelving Centre is a provider of both new and used longspan shelving in London. With plenty of benefits, longspan shelving offers the perfect storage option for any industry or even for your home. Providing an easy and fast way to assemble the system without the need of tools, longspan becomes a perfect storage solution.
Dexion longspan shelving is the ideal storage solution regardless of what you need to stock – from small components, storing boxes, cartons, tubes or wires to heavy cartons or archived information with each archive shelving bay holding up to thirty standard dimensioned archive boxes. Due to its firm and strong characteristics together with usage of long uninterrupted spans of up to 2450mm, longspan shelving is particularly suitable for bulky loads.
A typical longspan shelving standard size is 2000mm high x 2000mm wide x 600mm deep, but there are many other sizes you can chose from. The system is idea for archive storage boxes, e.g. a double depth bay holds sixty standard size archive boxes. The Dexion longspan system incorporates a wide range of beams and frames, making it easy to customise an order to meet your precise needs. A number of high-performance accessories are also available to extend the versatility of the Dexion longspan system.
Longspan shelving has many advantages:
The modular design of the longspan shelving, using a bolt-free lock-in system, allows you to assemble the longspan shelving fast and easy.
There is not even a need for additional tools.
This makes it a perfect solution if you are required to adapt your storage space on a regular basis due to different stock pattern, making it highly flexible
This way lost space is kept to a minimum.
Longspan shelving allows to you to store awkward items safely.
Longspan shelving is designed for safety complying with the European guidelines for safe storage.
If you would like to place an order for longspan shelving in London or if you require further assistance please don't hesitate to contact us.